About the Workshop
It is our pleasure to invite you to participate in the 3rd ERRIC Workshop on Service Orientation in Holonic and Multi-Agent Manufacturing and Robotics, organized by the University Politehnica of Bucharest, the Faculty of Automatic Control and Computer Science and the University of Valenciennes and Hainaut-Cambresis, ENSIAME in collaboration with the Work Group IMS2 of the French research network GDR MACS.
The Workshop is organized in the framework of the European FP7 Project ERRIC, the objective of which is to foster innovation in control of sustainable manufacturing and in this context to empower excellence in research in the faculty of Automatic Control and Computer Science of the University Politehnica of Bucharest thus enhancing its national and regional leadership position in selected areas of Intelligent Information Technologies applied to manufacturing and robotics.
---
The Workshop's Theme
The theme of the Workshop is "Intelligent Information Technologies for service-oriented, sustainable manufacturing and robotics".
Service orientation of technology and management applied to enterprise have gained attention in the past years, promising a way to create the basis for enterprise agility so that companies can deliver new, more flexible business processes that harness the value of service approach from a customer's perspective. Service-oriented approaches are used nowadays for developing applications and software-as-a-service that can be sourced as virtual hardware resources, including on-demand computing, interoperability across enterprise platforms and dynamic choreography of technologic and business processes.
Service-oriented architectures (SOA) for the production business management and manufacturing shop floor engineering, planning, control and maintenance are not limited to just Web services, or technology and technical infrastructure either. Instead, they reflect a new way of thinking about processes that reinforce the value of commoditization, reuse, semantics and information, and create business value in a sustainable way.
The purpose of the SOHOMA'13 international workshop, which is the third one from SOHOMA scientific events, is to shed light on multiple issues associated with service-oriented technologies, integration frames and distribution of intelligence in manufacturing enterprises and robot platforms, for sustainable and agile production considering the complete lifecycle of products.
The workshop also analyses how Multi-Agent Systems (MAS) and Holonic Manufacturing Execution Systems (HMES) contribute together to global sustainable manufacturing by help of service orientation. SOA represents the basis for describing service access models of resources in distributed manufacturing control for batch planning, scheduling and operations control. MAS represent the main technology used to set up and maintain such a service model at shop floor level. This model, judiciously defined and used in real-time by the (holonic) manufacturing control system, may solve myopia in resource allocation from the point of view of both production cost and energy efficiency, thus contributing to sustainable manufacturing. On the other hand, HMES use detailed information about resource behaviour, performances and service capabilities to optimize globally (at batch level) or locally (at packet level) production.
Efficient HMES switch between the hierarchical control mode - to provide optimality and the heterarchical control mode - to provide agility and fault-tolerance, triggered by a diversity of changes: (i) resource status or performance change (failure / recovery); (ii) local / central storage depletion; (iii) occurrence of rush orders; (iv) completing limited power consumption programs. Manufacturing sustainability will be addressed in the book with respect to: fault-tolerance to disturbances; energy efficiency at shop floor level; balancing resource usage; robot services; makespan / cost efficiency; vision-based quality control of products.
This SOHOMA 2013 Workshop also aims at gathering scientific contributions to service orientation in robotics, reflected in human-robot interaction techniques and swarm intelligence technologies and solutions. Applications of robot services are sought for stationary and mobile robot platforms integrated in manufacturing, as well as for outdoor multi-wheeled or multi-legged autonomous robots.
Intelligent information technologies used in the development of robot services include collaborative technologies in multi-arm robotic tasks, multi-agent robot teams and semi-heterarchical topologies, bio-inspired organization and strategies for holonic motion control and evolutionary robotics. Swarm intelligence in robotics for manufacturing and services addresses papers dealing with emergent collective intelligence, self-organization (stigmergy) and self-adaptation (genetic algorithms, evolutionary strategies and genetic programming) in robot control. Agent-Oriented robot coordination and integration in Holonic Manufacturing Execution are important subjects in the book.
Intelligent Information Technologies which will be described in the SOHOMA book provide solutions concerning the advanced control for Smarter Manufacturing, and will bring into discussion the state-of-the-art and progress for sustainable manufacturing through service orientation by help of:
Dynamic and Green Infrastructure:

the creation of intelligent control infrastructures that reduce costs, are dynamic and secure, and optimize the resource usage for energy and space efficiency.

New Intelligence and Smart Work:

efficient data fusion using context-sensitive information processing tools; adapting legacy plant equipment into reconfigurable resource teams in order to increase productivity and agility to business processes changes.
In the above mentioned context, the "product-driven manufacturing", "intelligent product", "distributed intelligence" and "collaborative technologies: swarm intelligence, human-robot interfaces, semi-heterarchical control and cognitive, collaborative Information Technologies", approaches are expected to be found in the workshop's sessions; the common concept in this respect considers active holon entities or agents, created by intelligent embedded devices as information counterparts of the products / activities they accompany during their robotized manufacturing lifecycle.
There is also a certain orientation of this 3rd SOHOMA edition towards complexity. Industrial systems are amongst the most complex and demanding artefacts in modern society but also amongst the most valuable ones. The challenges include coping with their heterogeneous nature and their on-line interactive nature in combination with competitive pressures (e.g. off-line plans are known to become invalid within minutes after arriving on the factory floor). Therefore, researchers are looking into matching technologies, which are capable of answering these challenges. Holonic systems are, actually by definition, targeting such challenges. Agent technologies focus on interactive and decentralized aspects. In particular, research developments aim to deliver open systems and system components, as well as infrastructure and infrastructural components rather than closed systems. This open nature implies that developments will not solve industrial problem on their own but rather contribute while avoiding the unnecessary constraining of an overall solution. This creates novel challenges concerning the assessment and validation of such innovative contributions. Hence, this book welcomes, among others, contributions on on-line simulation and on benchmarks, using simulation, and accounting for the unpredictable and turbulent industrial contexts.
---
Workshop Topics
The papers presented at the SOHOMA 2013 Workshop will cover the following topics:
Intelligent Manufacturing Systems Control
Distributed Intelligence for Manufacturing and Multi-Robot Systems
Intelligent Product in Supply Chains and Manufacturing
Web Services and Wireless Automation for Manufacturing
Swarm Intelligence in Robotics and Manufacturing
Natural-like Human-Robot Interaction
Product Driven Automation for Manufacturing
Service Orientation of Robots
Service Oriented Architectures in Manufacturing
Distributed and Multi-Agent Systems for Manufacturing
Discrete Event Systems in Manufacturing
Bio-Inspired Theories for Holonic Manufacturing and Evolutionary Robotics
Dynamic and Green Infrastructure for Sustainable Manufacturing
Operational Research Applications in CAD/CAM/CAE
Monitoring, Diagnosis and Maintenance of Manufacturing Systems
Resource Allocation, Production Planning and Scheduling
Supply Chain and Logistics
Industrial robots in manufacturing
---
Technical Exhibition and Round Table
A Technical Exhibition with publications and software products in the field of Manufacturing Control with distributed intelligence, holonic and agent based architectures and service orientation solutions will be organized during the workshop.
A Round Table will be also held during the conference, allowing the research groups from different institution to establish future collaboration plans in the perspective of bilateral and European projects.
---
Proceedings Volume of the Workshop
All papers accepted for presentation will be published in the Preprints Volume (available only in CD-ROM, with ISBN) and will be distributed to the participants at the conference time.
A selection of papers duly presented at the Workshop will be included in the SOHOMA'13 post conference Proceedings Volume in a special issue of the Springer series with the title "Service Orientation in Holonic and Multi-Agent Manufacturing and Robotics" as a multichapter book.
The Proceedings volumes of SOHOMA'11 and SOHOMA'12 events, published in special issues of the Springer Book series "Studies in Computational Intelligence" have been included in Web of Science and in the DBLP Computer Science Bibliography (University of Trier, Germany).
SOHOMA'12
Service Orientation in Holonic and Multi Agent Manufacturing and Robotics
Series: Studies in Computational Intelligence, Vol. 472
Borangiu, Theodor; Thomas, Andre; Trentesaux, Damien (Eds.)
2013, XII, 390 p.
ISBN 978-3-642-35851-7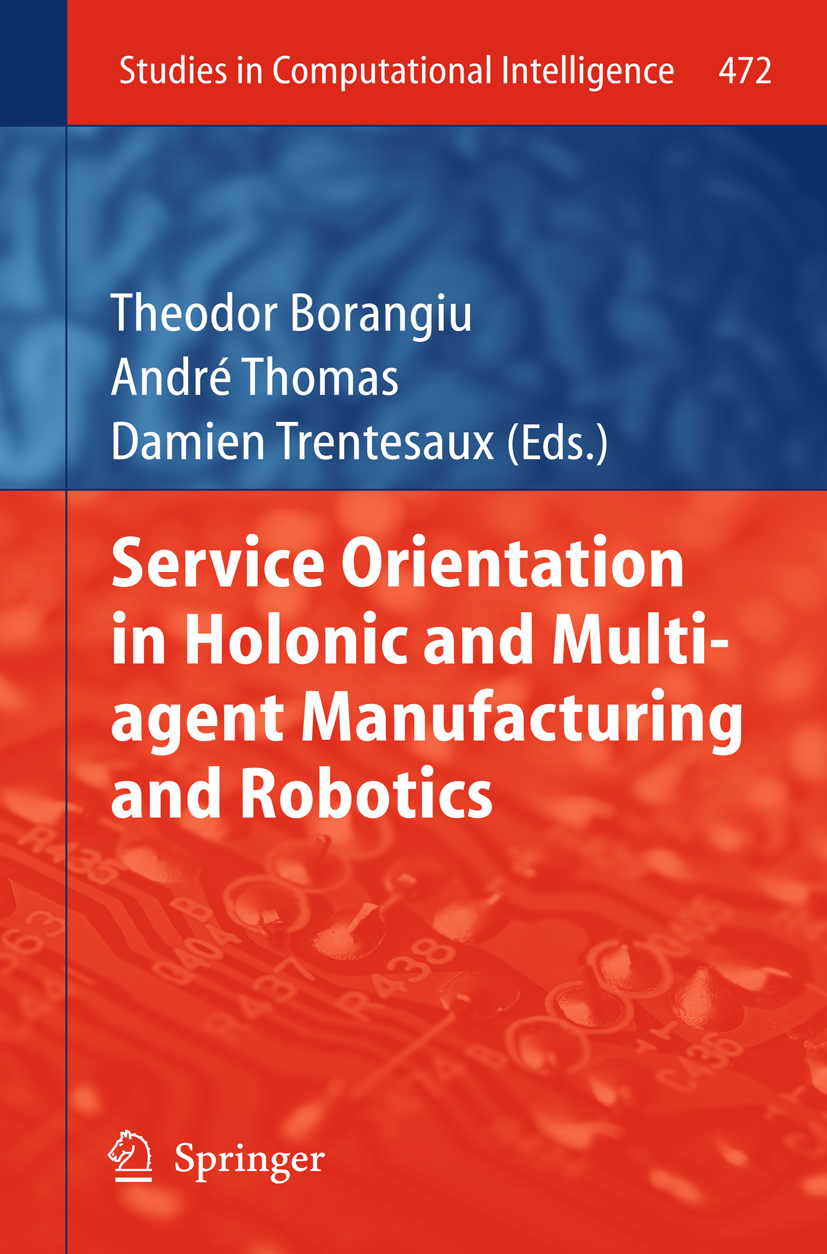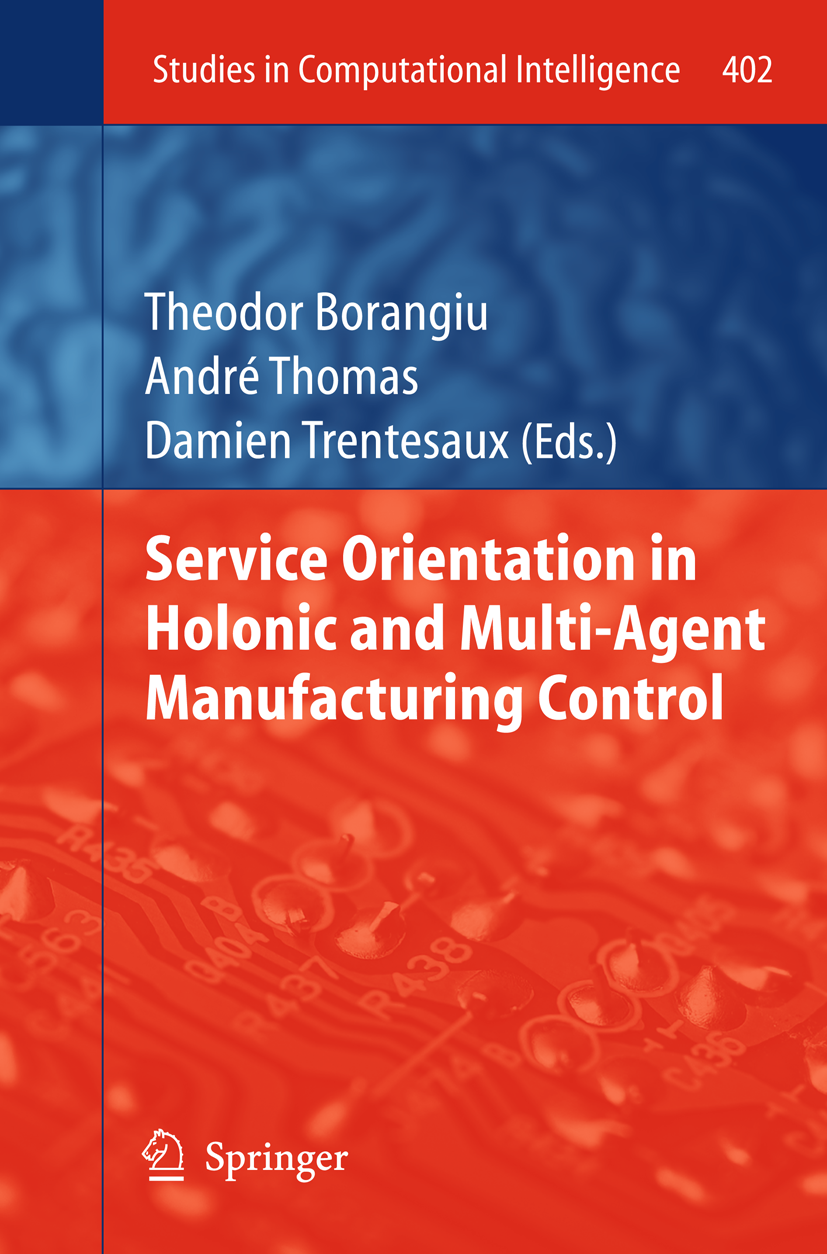 SOHOMA'11
Service Orientation in Holonic and Multi Agent Manufacturing Control
Series: Studies in Computational Intelligence, Vol. 402
Borangiu, Theodor; Thomas, Andre; Trentesaux, Damien (Eds.)
2012, XXIV, 356 p. 149 illus., 92 in color.
ISBN 978-3-642-27449-7